A full list of our available fonts are available for download here. This file is in PDF format, and requires a PDF viewing program, such as Adobe Acrobat Reader.
Business Stationery (business cards, letterheads, envelopes, etc.) is priced by Paper Type, Ink Color(s), Quantity, and Custom Services (if applicable). To determine the base price for an item, reference the base prices in the catalog:
Using your catalog, locate the paper selection desired and note the Price Code at the top of the page (e.g. Premium Bright White is BC-2).
Determine how many ink colors will be used on the job (e.g. Reflex Blue & Black).
Determine the quantity of the job (e.g. 1,000).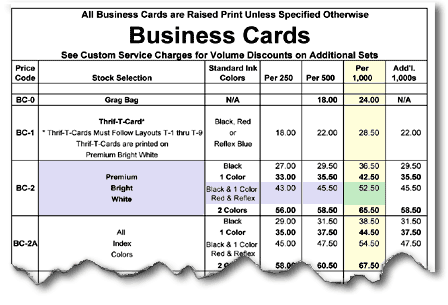 Price subject to change, please check your current price list.
Please note that this is only the base price for an order. A final price is determined by adding the custom services to the base price. Review the list of custom services and carefully add each charge to the base price if applicable.
Custom Service Charges
Additional Charges Apply
Provided at No Additional Charge
Flat Printing -

When ink is laid down on a sheet of paper and the Thermography process (Raised printing) is not used

Additional Lines -

Each line required after 9 lines

Logo -

When placing any catalog or customer supplied graphic on the card

Reverse -

(unless full reverse - treat as 4-sided bleed) When any object (text or logo) is formed by printing everything around, but not including, the object

Screen Tint Graphics or Text -

When screening your art or any of the logos or typestyles

Proof -

(Customer changes are charged) When the artwork for a job is provided to our customer for reviewing prior to production

Close, Hairline, or Trap Registration -

When using two colors and, 1. The colors are closer than 1/16th of an inch, referred to as Close Registration; 2. One color touches another color, referred to as Hairline Registration; 3. One color is completely enclosed or surrounded by another color, referred to as Trap Registration