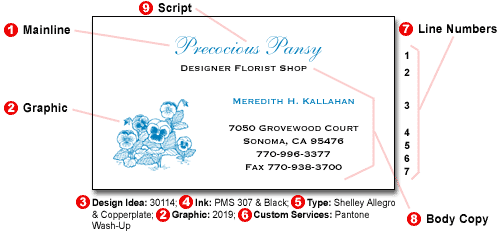 1

Mainline -

Each business card commonly has one mainline, the company name. The remaining text is the body copy. Standard mainline text when not using a Design Idea will be 12 point Helvetica Bold, upper case (HE651) unless otherwise indicated. The standard 12 point type size will be used on all block type and 18 point on all script type and will automatically be used if not marked on the order. If point size chosen is too large to accommodate a mainline, the next smallest size to fit the line length will be used. Point sizes are available from 5 point to 72 point.

| | |
| --- | --- |
| Business Card Mainline Standard | Block 12 pt. - Script 18 pt. |
| Letterhead Mainline Standard | Block 18 pt. - Script 24 pt. |
| Envelope Mainline Standard | Block 12 pt. - Script 18 pt. |

2

Graphic -

All graphics shown in the catalog have an identifying graphic number. This number will be noted on each Design Idea. Please refer to the Graphic Selection for a full display of graphics.

3

Design Idea -

Each product that is a Design Idea will have a description that begins by listing the coordinating Design Idea Number. Some Design Ideas may have custom service charges that apply.

4

Ink -

The ink colors on each product are identified with a color name or PMS number. PMS inks have custom service charges which apply. Color of stock may affect ink color.

5

Typestyle -

Each product has a description that identifies the Typestyles used in the sample.

6

Custom Services -

Custom services are indicated on each product. Additional charges may apply.

7

Line Numbers -

The line numbers identify the lines in a Design Idea. These are for electronic ordering where applicable.

8

Body Copy -

Standard body copy when not using a Design Idea will be 8 point Helvetica Regular, upper/lower case (HE552) unless you indicate otherwise in the special instructions.

9

Script -

When using Script, upper/lower case is strongly suggested. All caps are very difficult to read.